Award-winning author Mark Wallace Maguire's new novel "The Codebreaker's Tale" has been released.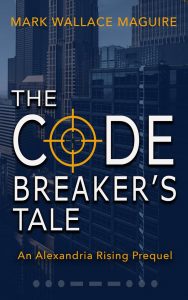 The book is a prequel to the best-selling Kindle, "Alexandria Rising," and features several vintage locations and icons in Atlanta circa 1983. In this story, an unlikely duo with connections to the other books in the series roam the city trying to stay one step ahead of an unknown foe in an adventure described as "gripping" and "reading from your seat".
"I had wanted to write a prequel to 'The Alexandria Rising Chronicles,' and I had a character and a plot to set it up – the popular Winston Worsley – but I needed a place. Instead of delving into the clichés of New York or London, I went somewhere closer to home and a city that I have grown to love because of its rich and myriad of stories.
Maguire is the author of eight fiction and non-fiction books, including the best-selling Kindle, "Alexandria Rising", also available on Audible, and the acclaimed YA Fantasy, "The Last Wizard at the End of the World".
He resides in Fayetteville, Georgia, and has been a fixture on the Atlanta media scene for over 20 years as an award-winning columnist, writer and editor. He also teaches writing classes sponsored by various libraries and the Georgia Humanities Council.
Maguire has featured on several podcasts and publications, including yahoo.com, NPR's Dante's Old South, Kids Lit Book Cafe, VertiKal Life magazine, The Citizen, and The Marietta Daily Journal.
The book is available at amazon.com, barnesandnoble.com, and at select retailers statewide.
www.markwallacemaguireauthor.com